News - 9 Aug 2022
Contributing to Net Zero through project in Mongolia
Probi is dedicated to helping people everywhere live healthier lives. We believe that a healthy planet is a prerequisite to this and Probi is committed to climate action. We are committed to the Paris agreement of 1,5 degrees and are working towards Net Zero. As part of our work to reach Net Zero, we compensate those of our emissions that we are not able to eliminate through adequate changes. Probi is therefore collaborating with the organization ZeroMission to support the Plan Vivo project in Mongolia.
Besides contributing to Mongolia's push towards greater development and improvement, the Plan Vivo project estimates that a collective amount of 130 000 tons of Carbon dioxide will have been captured into the soil via the measures taken by local herders through improved practices.
We are thrilled to contribute to such a positive development and at the same time pleased to be able to compensate for those of our emissions that we are unable to reduce otherwise. In 2021, Probi climate compensated 89 tons of CO2, besides taking important steps to reduce existing and future emissions.
The Plan Vivo project in Mongolia
With the current development in Mongolia, a change for the better would seem like an insurmountable challenge. Plan Vivo contributes to that positive change by supporting traditional nomadic practices, giving voice to nomadic communities and enhancing biodiversity. This in turn alleviates pressures and stressors on local environments and ecologies as well as reduces carbon levels.
Plan Vivo strengthens traditional knowledge and local communities, in order to lessen the pressure on the pasturelands. Practically, this is done by the increase of nomadic movement as well as improved and coordinated communal usage of the pasturelands. Besides these initiatives, the families involved are encouraged to pool their resources and upgrade their rural production from raw materials to finished products. This also helps reduce rural poverty and assists in the building up of economic resilience within the communities involved.
Mrs. Daariimaa, a herd group leader in the Hongor Ovoo area, knows all too well the challenges of being a herder. With 50 Jaks and 100 goats she and her husband, Mr. Purevsuren, and their four children take care of their animals across four different provinces. Besides their herd, they have diversified their income by sales of pine nuts, berries, and other items from the forest. As a group leader she has witnessed the change created by the Plan Vivo project. "The Project has, above all, influenced the herders to use the grazing areas in a more coordinated manner and thereby created cooperation, which we have not seen earlier," Mrs. Daariimaa shares. Mrs. Daariimaa has even acted as a leader and coordinator of patrols, in efforts to prevent illegal poaching and deforestation. She has been so successful that in the recent years, all such illegal activities have ceased to be committed.
With the support to such collaborative programs between the Nomadic herders and the local government, initiatives have been strengthened where enforcement of laws against poaching and deforestation take place by the herders themselves. Such initiatives have been established in order to protect the forests areas and the wildlife. This, in turn, contributes to ensuring and improving the levels of biodiversity currently threatened in Mongolia.
It has been said that the future depends on what we do in the present. How much more of a lasting change is not a habit compared to a single action, or a cultural practice compared to a routine. By supporting ZeroMission and the Plan Vivo project in Mongolia, Probi hopes not only to support a more sustainable future but even create lasting change for the better.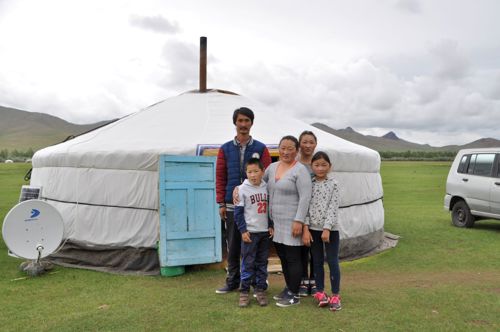 Mrs. Daariimaa and Mr. Purevsuren, with their children.