Combined, a complete probiotic offer
Together the sites work in harmony to produce a complete product offering. With our production expertise, we can develop custom blends of probiotic strains. We also manufacture our proprietary BIO-tract release technology, a unique patented delivery system that protects sensitive probiotic strains from stomach acid and prolong release as they move through the intestinal tract.
Committed to continuous improvement
Upgrading our sites and streamlining production is in continual focus to best meet our customer's needs. These efforts ensure the supply of high-quality products, stable products to stay ahead of evolving market needs and trends. With this continuous improvement culture, we refine production, minimize waste, and reduce the use of resources. Comprehensive and consistent testing provides unparalleled quality control. We maximize the stability and shelf life of our probiotics through operation in controlled environment. Combined, these efforts are recognized via multiple Redzone award nominations, but most importantly, from our customers, who we work so passionately for.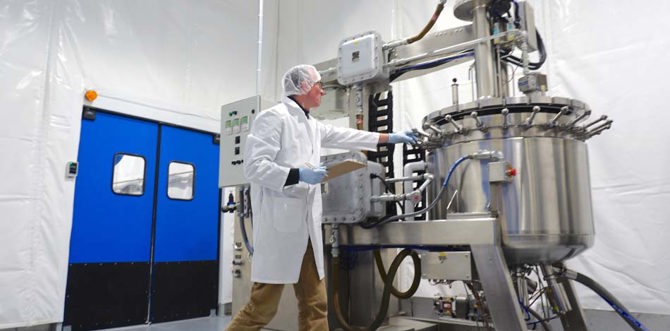 A sterile mixing vessel