The projects, initiated by the Universities involved, and with Bengt's assistance, have contributed to the ongoing education of doctors. Despite the political, economic, and humanitarian situation in Zimbabwe, the project maintained a high level of sufficiency and success in the projected goals.
Besides establishing professional and personal relationships via their projects, Bengt and his Zimbabwean colleagues have been dedicated to improving the lives of Zimbabweans.
"Having been to Zimbabwe a dozen times or so, in the capacity as a medical examiner at the university of Zimbabwe, I got to know Professor Muguti personally. Over the years and in my collaborations with him, I have experienced him as a partner in excellence and of great development," Professor Jeppsson confides.
The donation agreement is primarily intended for education purposes, medication, hospital equipment and supplies. Some of the funds will even contribute to building and maintaining hospital infrastructure. Especially exciting is the founding of the "University of Zimbabwe International Centre for Surgical Simulation (UZICSS)". This project which is spearheaded by Professor Muguti is a joint venture between the University of Zimbabwe and Karl Storz, Endoskope, Germany. Probi AB's donations have supported this project in key areas and with necessary equipment. First of its kind in Africa, this project establishes a world class center for the training of surgeons, surgical residents and medical students in minimal access surgery in Zimbabwe, Sub-Saharan Africa and beyond.
Minimal access surgery is a technique where small incisions replace larger ones. Such a procedure is often accompanied by video telescope which is inserted into the body cavities in order to get a better understanding of the situation. Surgical instruments are later inserted through the small incisions in a similar manner. Less intrusive and usually more effective, this technique improves upon of the classical surgical procedure.
In line with Probi's vision to have healthier lives over the world and in alignment with Probi's sustainability strategy to promote well-being of all people, we will continue to support the Department of Surgery at the Harare University in Zimbabwe and its research and development initiatives.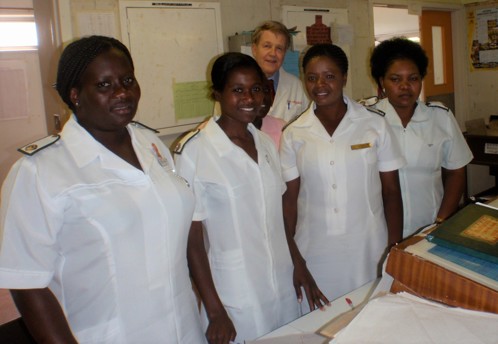 Prof. Bengt Jeppsson and the nurses at the Surgical department